Now a day's websites have become the source of hot information in the field of construction and house painting designs. All the big enterprises have made their websites to provide their specimens and information about work deals. Painter website designs are also in use because all the background images and names of the colors give a sense of choice to their customers. Aesthetic images and wide options of color choices given to customers make them a beneficial edge as compared to their competitor painter companies.
Key features of an ideal House Painter Website.
Aesthetic Web Design: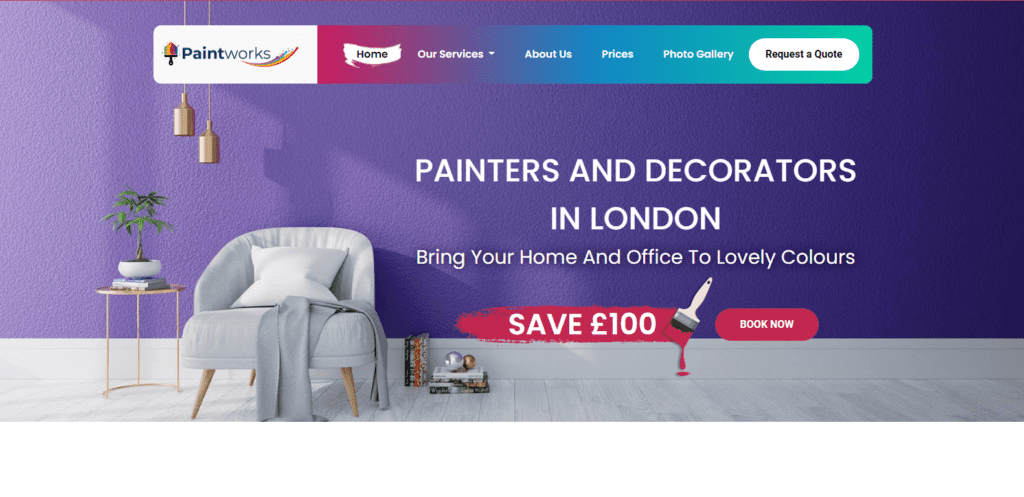 Web design must be catchy and look like a feast for the eyes. So that the customer/buyer must get impressed and not get distracted from the cheap offers of other companies.
Colors Depiction in Background:
Background imaging must be strong enough to give the sense of real effects.
Present a new house design with your color scheme:
This is the most powerful trick to turn visitors into your customers by showing them real-life examples and perfect house designs with your color scheme.
Show your Work Team in action with professional Planning:
A painter company must use all the professional methods to attract customers to its doorstep by showing them professional traits like your team painting colors in a house. This will depict the professionalism of your company to the people.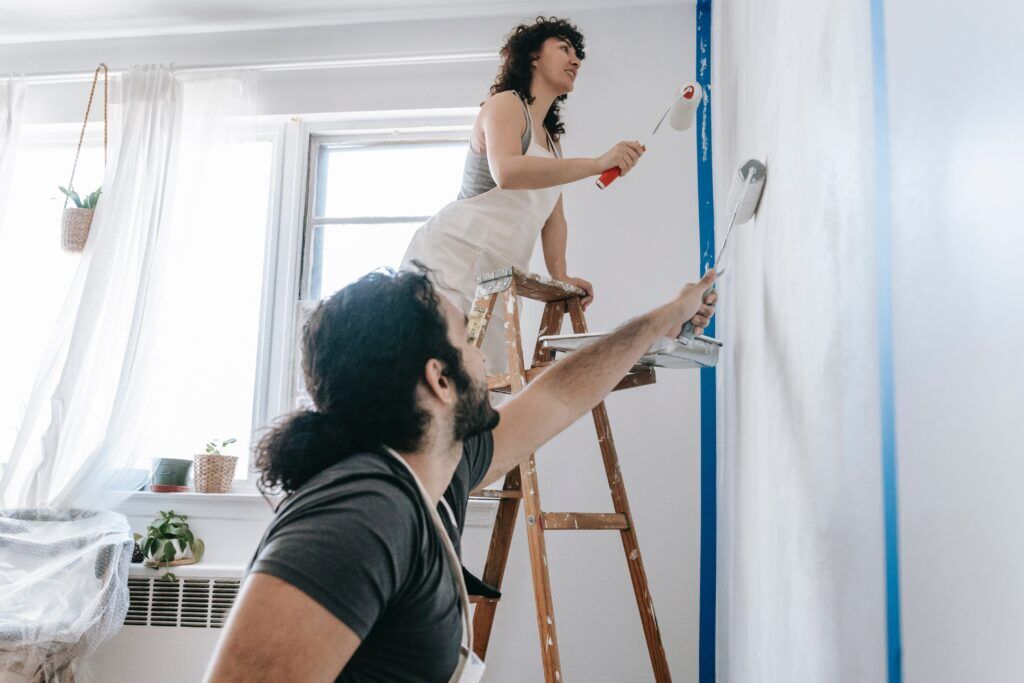 Clear Headline:
A painter company must have given clear headlines about the color information and its shades. The headline must be written in the color in which information is being presented.
Initially show the minimum prices of your services:
Your painter websites must show economical rates for some services which can build your soft image in customer's mind.
Use animation on your painter's website for making colors lively:
Only if your color is looking lively in the images of your website, the customer will pay head to your advertisement. Otherwise dull and bore colors only give negative impressions.
Provide PDF color scheme books to download: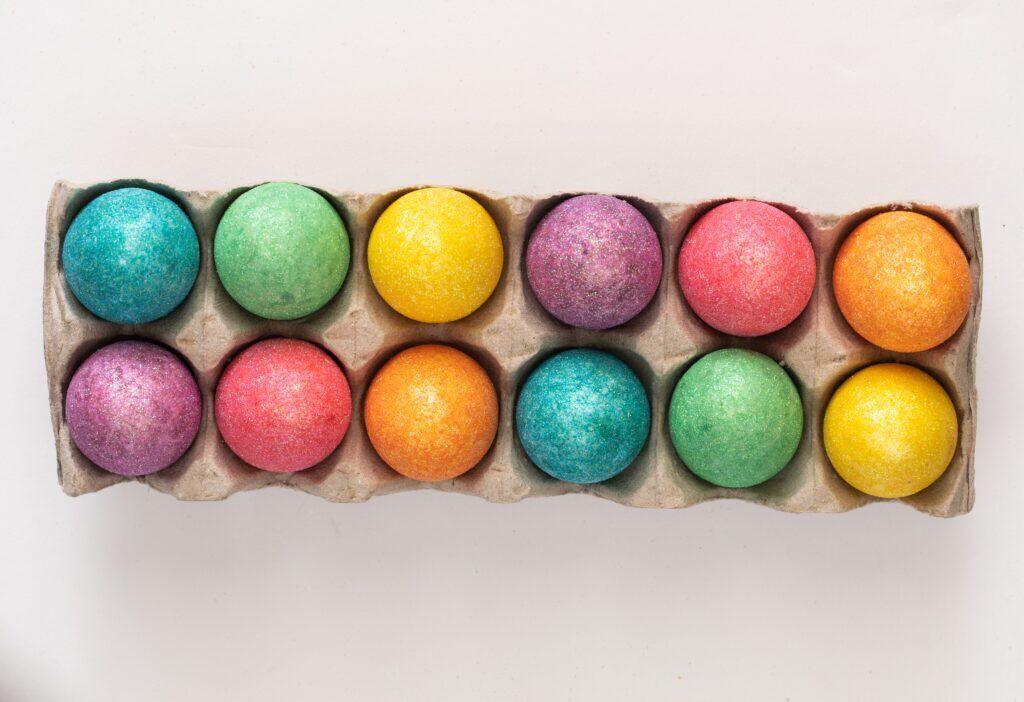 Make your products easy access to for your customers, and give them buttons on your website to download your color shades in pdf form. This will also work as free promotion of your painter's website because this pdf file will be shared on social media.
All of these above-mentioned features must be part of your painter website because these unique features will convert visitors into your customers. Promoting your business via online platforms is very important. Websites are not just a clicking exercise, rather these are the gateways to prosper your business.
House Painter Company Inspirations
Following are some Painter Companies websites, which can be used as the best examples for your house painter company inspiration 2022.
1. Miami Painting Services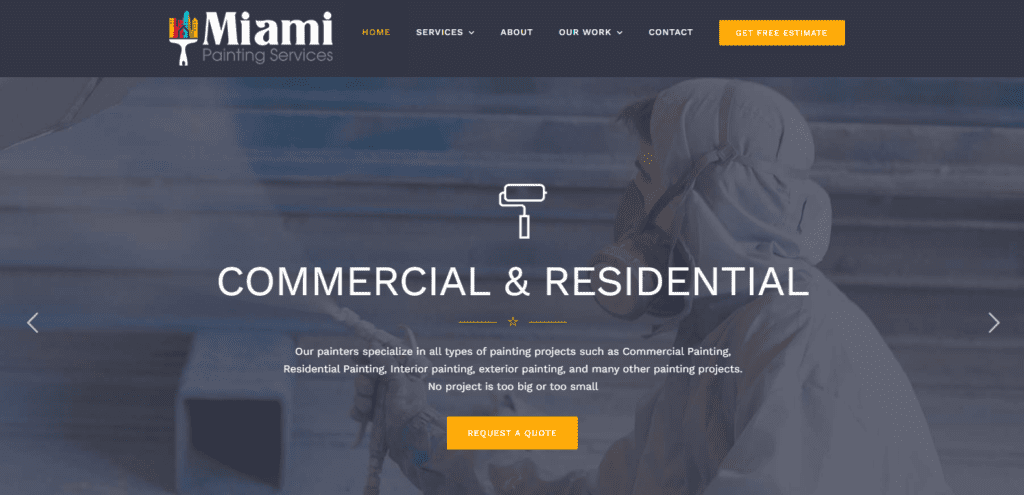 This company has a perfect web design. It provides the best look of its branded colors on your walls with a healthy interior design. Its homepage gives you the desired look of colors on your walls. The wide and spacious look of this painter website produces easiness for customers to select the colors for their walls. It also contains all the information about the website.
Unique inspirations in its web design:
Its scrolling animations are best.
Whitespaces are given abundantly
Its color scheme is rare.
Link: http://www.paintprosmiami.com/
2. Brite Painting and Waterproofing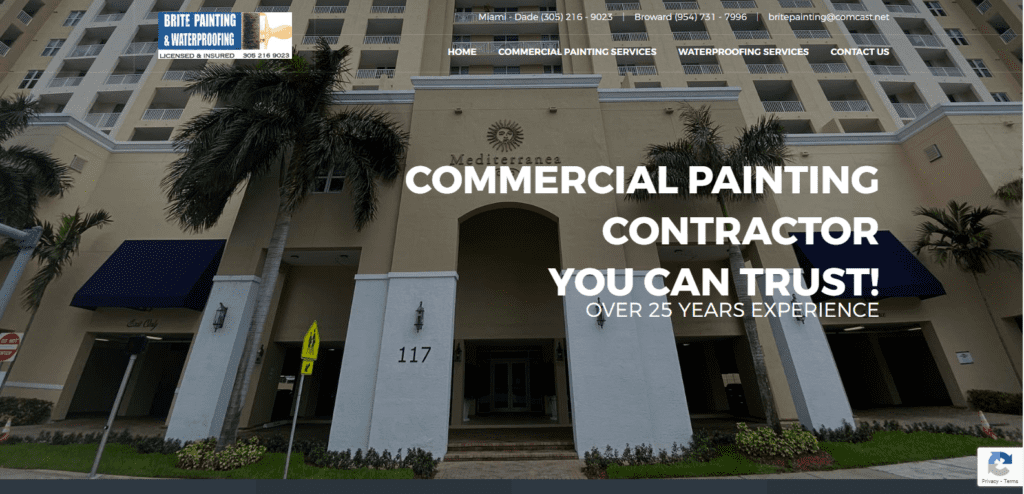 This website contains all colors of your requirement. As you scroll down the web page, you will get information about the services of this company. Its spacious color scheme turns its visitors into its potential clients.
Unique inspirations in its web design:
Its background colors are nice
Its web design is awesome
Its color scheme is inspiring
Link: https://www.britepainting.com/
3. Lenzen Contracting, Inc.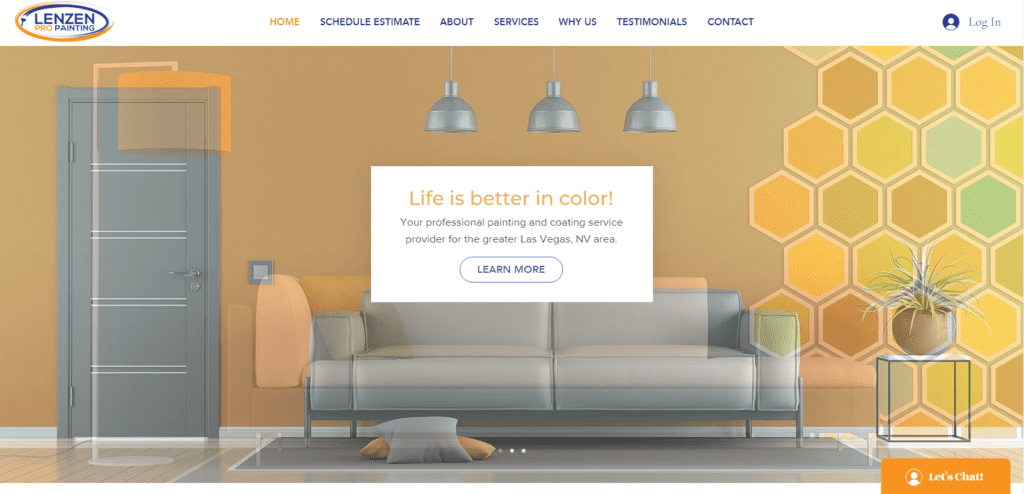 The color scheme of its pages is vibrant. Its promotion method is unique. Its background images testify its services. This painter website declares its services on a performance basis, as its teams are professional.
Unique inspirations in its web design:
Its illustrations are fun background
Its homepage provides a lead to the next tab
Its structure menu is nice
Link: https://www.lenzenpropainting.com/
4. Diesel Painting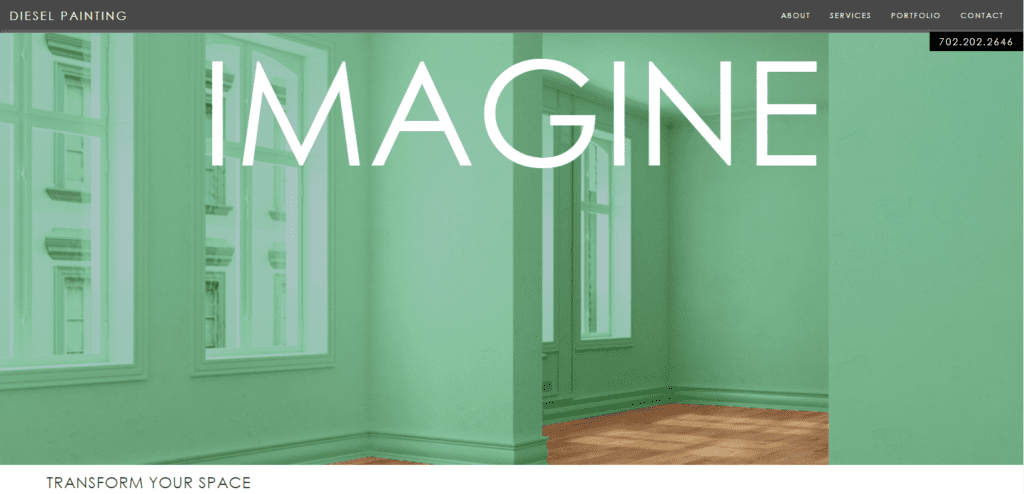 This painter website is based on the theme of imagination. Its branding is very unique with a simple outlook. It has tried to keep texts as minimum as possible. It provides less information just as contact number, location, and service details. And no doubt, these are the only requirements that turn visitors into your potential clients.
Unique inspirations in its web design:
Its web design is creative
Its copywriting style is great
Its colors are nice
Link: http://dieselpainting.com/
5. Paintworks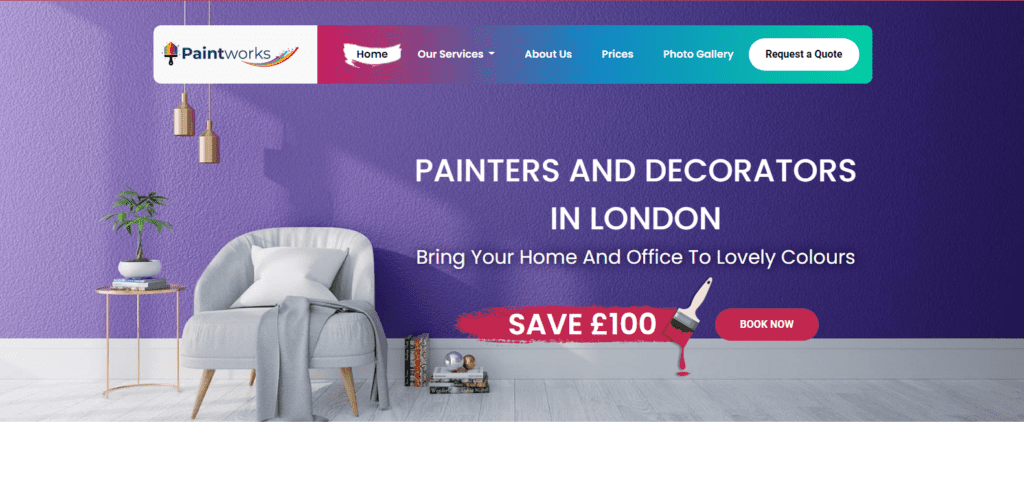 This painter company websites have more emphasis on animation. Its animation has dynamic power to bind your gaze to the color scheme. On the other hand, it has kept its reviews original and honest. It gives access to the portal of its reviews from previous customers. It encourages you to ask your queries about their services.
Unique inspirations in its web design:
It has inspiring team pictures.
It offers you an action button
Its whitespaces are wide
Link: https://www.paintworkslondon.co.uk/
6. CertaPro Painters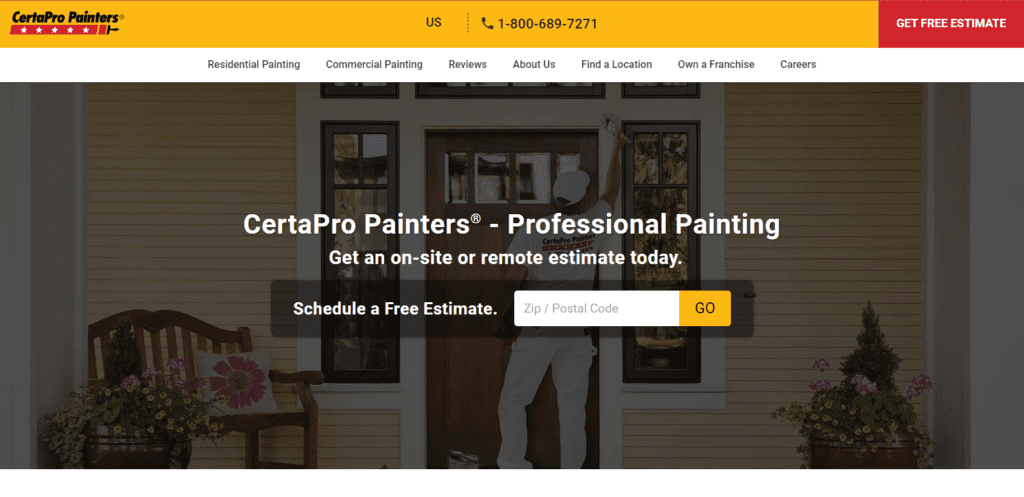 This website offers a balanced approach between text and multimedia options. It gives you the description of its services in the form of videos rather than in text form. It has also introduced an action section to give you a free estimate of its services by reading your requirements.
Unique inspirations in its web design:
It gives you a great user experience
It offers you a simple clear call-to-action button
Its design is playful
Link: https://www.certapro.com/
7. Dr. House Painter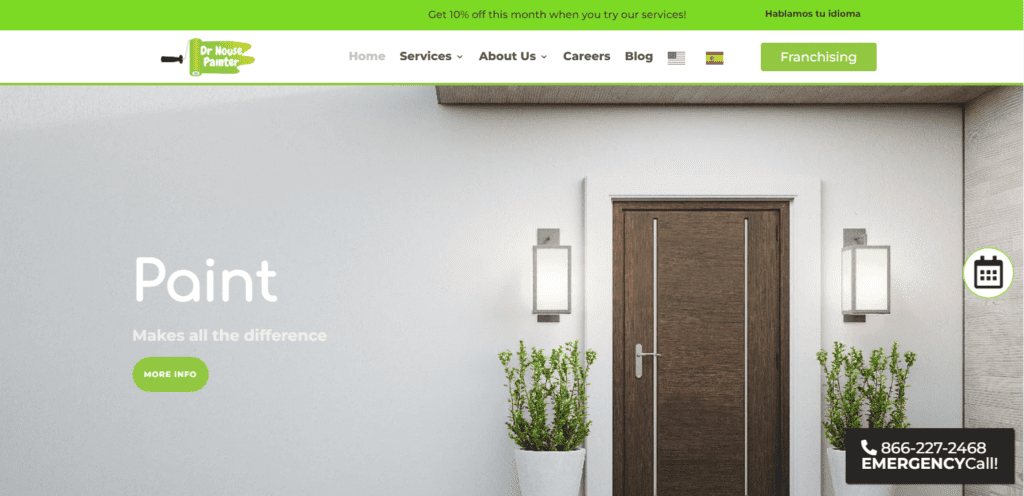 It has used a color scheme for its branding. It has tried to build aesthetic images to give you a classic era touch. Its amalgamation of modern interior design and classic colors has developed a balanced approach in its images.
Unique inspirations in its web design:
Its menu is awesome
Its picture is classic
It has the best image slider
Link: https://www.drhousepainter.com/
Conclusion:
It has become a need of the hour to develop a business website if you want to grow your business. You must take a look into the websites of your competitors and what are they offering and you must provide the same and more offers to enhance the durability of your products and to remain in a healthy competition with your competitors.